产品中心 > 控制系统
电源1607-XT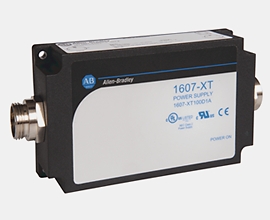 d产品编号:3115141816
产品名称:电源1607-XT
规  格:
产品备注:
产品类别:A-B控制器
产 品 说 明
Bulletin 1607-XT ArmorPower™ On-Machine™ Power Supplies are for applications where voltage drop occurs due to line loss, and where compact size, high efficiency, and reliability are critical. Available in 50...200 W models, these IP67-rated power supplies address a trend of eliminating traditional enclosure for on-machine and factory floor installations. These power supplies are vacuum encapsulated to provide maximum resistance to shock, vibration, and humidity.
Features
IP67 and NEC Class 2 ratings
Vacuum encapsulation technology
Quick connectors
Smooth surface, suitable for washdown
Products
1607-XT ArmorPower™ On-Machine™ Power Supplies
Certifications
UL Listed, cURus Recognized, CE Marked
Certifications apply when product is marked. See our Product Certification site for Declarations of Conformity, certificates and other certification details.
Learn More
Allen-Bradley control transformers are part of our Essential Components line. Learn more about how these industrial building blocks can streamline your installation, improve uptime and decrease maintenance — ultimately helping lower your costs.