产品中心 > 传动
PowerFlex 755交流驱动器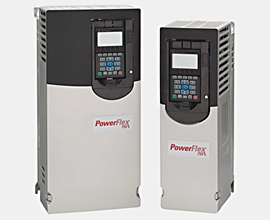 产品名称:PowerFlex 755交流驱动器
规  格:
产品备注:
产品类别:
产 品 说 明
PowerFlex® 755 AC Drives provide ease of use, application flexibility, and high performance. They include multiple control and hardware options, as well as optional embedded safety features. With integrated motion, PowerFlex 755 AC drives can reside on the same EtherNet/IP™ network as Kinetix® drives and can be configured, programmed, and controlled using the same embedded instruction sets.
New High-Power PowerFlex 755 AC Drives Provide Expanded Application Flexibility
The PowerFlex® 755 AC drives now offer an extended power range providing increased flexibility, ease of use, and high performance in a single product family. The PowerFlex 755 AC drives are well-suited for motor control applications in a variety of heavy industries, including oil and gas, tire and rubber, refining, material handling, metals, and mining.
PowerFlex 755 AC Drives Highlights
Extended power range now reaches 0.75…900 kW (1…1350 Hp) at 400/480V AC input and 200…530 kW (250…550 Hp) at 600/690V AC input
Automatic Device Configurations allows Logix controllers to automatically detect a replaced PowerFlex 755 drive and download all configuration parameters, eliminating the need for manual configuration and helping to reduce downtime
Control for energy-efficient Interior Permanent Magnet Motors (with encoder feedback)
Advanced diagnostics help reduce downtime and provide additional monitoring to protect your investment
Rockwell Automation® Integrated Motion eases drive configuration and control by using profiles and instruction sets embedded in RSLogix 5000 software
Roll-in/roll-out design provides easy access to the drive for fast installation and maintenance
Modular construction allows fast and easy replacement of parts such as the main blower, capacitor assembly and circuit boards, minimizing production downtime
Separate cooling channel minimizes exposure of electronics to airborne contaminants
New PowerFlex 750 Series AC Drives Provide Cost-Effective Option with Smaller Footprint
The PowerFlex 753 and PowerFlex 755 drives now offer new options designed for low-power applications that require full-featured, AC drives with an optimized size. Although small in size, these new drives retain the valuable features that have made the PowerFlex 750 Series popular, including predictive diagnostics, safety options, simplified integration, and a flexible slot-based architecture. Learn more about these new size-optimized drives on the PowerFlex 753 AC Drives page.